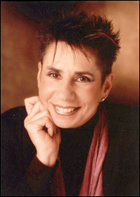 Leslie Walker-Hirsch is an internationally recognized educational consultant who specializes in social and sexual development for individuals with intellectual disabilities. She is a dynamic and stimulating lecturer and is the co-creator of the widely used CIRCLES curriculum series, multi-media teaching materials for improving social competence and judgment, that is designed especially to address the learning styles of youth and adults with cognitive disabilities. She teaches in the Graduate School of Educational Specialties at The University of New Mexico.
Her most recent publication is as a contributing author in Down Syndrome: Visions for the 21st Century, Chapter 22, "Building Relationships/Social and Sexual Development". She is a contributing author in the AAMR book, A Guide to Consent, Chapter 4, "Consent to Sexual Activity", which has been a groundbreaking one. Many articles in highly regarded journals and newsletters add to her credentials.
Leslie Walker-Hirsch has earned fellowship status in the American Association on Mental Retardation (AAMR). She is the founder and former chairperson of the AAMR Special Interest Group on Social and Sexual Concerns. Recently she is concluding her term of office as President of the General Division of the AAMR.
Leslie Walker-Hirsch serves on the National Clinical Advisory Board of the National Down Syndrome Society, advising and supporting parents and professionals who serve teens and adults with Down syndrome on issues pertaining to social development and sexuality.
Leslie Walker-Hirsch serves on the Procter and Gamble panel of experts for 8th grade. She has been a speaker at professional trainings across the US and abroad, including The President's Committee on Mental Retardation Next Generation Leadership Forum, among countless others.
Leslie Walker-Hirsch has an Individualized Master's Degree in Special Education and Administration. She consults to schools, agencies and states to assist individuals with intellectual disabilities, their families and the professionals who support them on issues related to developing social competence and sexual safety.
She is married, has three children, two grandchildren, a dog and a cat. She has her office and lives happily in Yorktown Heights, NY.